The VM failed to resume on the destination during early power on

The error you are seeing can appear when you vmotion a powered on VM from one host to another on the vcenter. This particular issue was started suddenly because of the VMware datastore disconnection happen for hosts for a moment. Although disconnection happened VM (Microsoft Windows) was resumed and running properly. This article explains the steps, how to fix the vmotion issue without powering off or restart the VM and no impact at all.
Follow the steps below to Fix the vmotion issue.
01. Right click on the VM then from the menu select Migration.
02. Select "Change Storage Only" option and click Next button.
03. In the Select Storage option mark the "Configure per disk" and then change the VM Configuration File from the current Datastore to another datastore where VM can visible. After that click Next button and click on Finish button in the window Summary.
At this point you will see the task failed with the error below.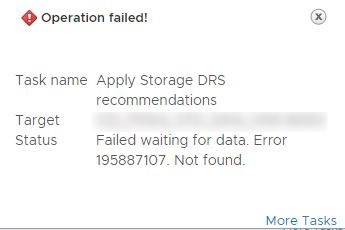 04. Now retry with vmotion and you will see the VM will be vmotioned without any issue.
That's it. Hope this will help for some one who is in trouble. ?